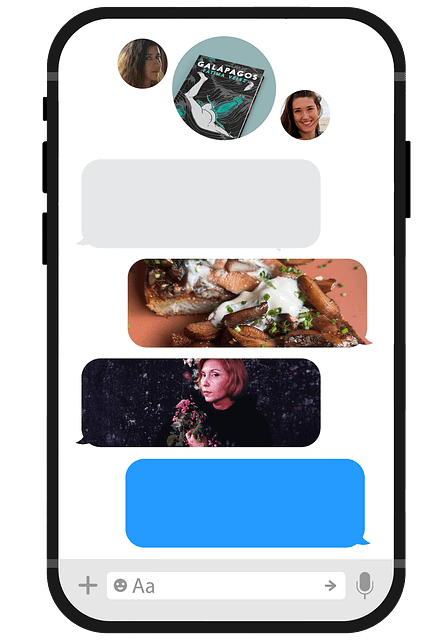 In "You'd Like This," we ask author-translator pairs to exchange recommendations. Here, Fátima Vélez and Hannah Kauders respond. Vélez's novel Galápagos is forthcoming from Astra House, translated from the Spanish by Kauders. An excerpt appears in the Filth issue.
FV: In 1975, occultists descended on Bogotá for the inaugural Congress of Sorcery, which bore the slogan "In the Shadow of the Different, With Love and Wonder." This international coven united spiritualities from around the world — in Colombia, no less, where Christian morality and colonial inheritance still thrive. An expert in psychotronics did aura readings with a Kirlian machine. There were voodoo rituals from Haiti and macumba rituals from Brazil. Clarice Lispector was a guest of honor. I thought the conference was just a rumor until I listened to "The Devil Is Not Invited," the latest episode of Radio Ambulante — a podcast of Latin American stories hosted by Daniel Alarcón — as I washed dishes in my yellow rubber gloves. I recommend it for being transported to a marvelous new reality while doing chores.
Magic Mushrooms (on toast)
HK: Not the psychedelic kind. The kind you sautée in a skillet hotter than the face of Venus until golden, then deglaze with just a skosh of ruby-red port. Cook down with a pat of salted butter, a clove of minced garlic, and a sprig of thyme, then serve on a thick slice of fried sourdough or under a poached egg (or, honestly, both). A dollop of crème fraîche? Ingenious. A sprinkling of chives? Divine. Eat standing at the sink as you scrawl a poem on paper towel. Pair with Bill Evans' "Dream Gypsy" and a glass of dry lambrusco.
FV: The lecture Clarice Lispector delivered at the First Congress of Sorcery. What might emerge from an egg carefully considered? This text synthesizes a Lispectorian poetics: the wonder of encircling that which is seen, of entering, gazing out from inside, exploring, exploiting, settling down in, incubating, rummaging around in. "I look at the egg in the kitchen with superficial attention so as not to break it. I take the utmost care not to understand it. Since it is impossible to understand, I know that if I understand it this is because I am making an error. Understanding is the proof of error. Understanding it is not the way to see it." She invites us to concentrate on something — an egg, for example — to the point of enchantment, rather than understanding and domination.
 Orlando by Virginia Woolf
HK: A love letter in novel form from Virginia Woolf to her beloved Vita Sackville-West, Orlando is the cult classic my college professors managed to blanche all the queer out of. It also (I discovered upon writing this) happens to be the favorite novel that Fátima and I share! Orlando transforms from a nobleman in the Tudor court to a twentieth-century Englishwoman, all while writing a single poem. This novel has everything: centuries-long seductions, biting social critique, lovers skating on frozen rivers. It's metaliterature that won't make you cringe, with the kind of sentence they don't make anymore: "Was not writing poetry a secret transaction, a voice answering a voice?" Keep one in every tote you own, like a spiritual chapstick.
Magic Mushrooms, freshly harvested from cow poo
FV: Hannah sends me a video of mushrooms sizzling in a pan, with garlic, with pepper and salt, and I think of the psilocybin mushrooms that sprout from cow poo. What an animal! With such a complex digestive system, all it has to do is eat grass and — with a little rain, sun and earth — its dung sprouts the little mushrooms my cousins and I used to pick from the warm manure as teenagers and eat on the banks of the La Miel River, in central Colombia. Into color phosphoresces the matter of all things moving toward the lip of song, and I listened to those colors, to the forms of the river over the stones, I listened and heard. Best served with the concoction we'd cook over a campfire: a drink we called celestial aguapanela, made with whole sugarcane.
Voice Memos
HK: Medium of choice for those who like to communicate via podcast (us included). This is our go-to method for talking through complicated choices in the translation process of Fátima's brilliant novel Galápagos. Our last was a long exchange about alien vs. extraterrestrial. Voice notes are also perfect for diatribes, declarations of love, and forcing intimacy on people you just met! And they're not just for speaking. I like to think of a voice note as a sonic postcard. Send a snippet of a singer on the subway, rain falling in a foreign city, a burping dog, a laugh.
Note: Vélez's responses appear in translation by Kauders. The quote from Lispector's "The Egg and the Chicken" is from Katrina Dodson's translation. Portrait of Lispector courtesy of Maureen Bisilliat / Instituto Moreira Salles.