Isabelle Wenzel: Switching My Brain Off
An interview with the cover artist of the Ecstasy issue
By Astra Magazine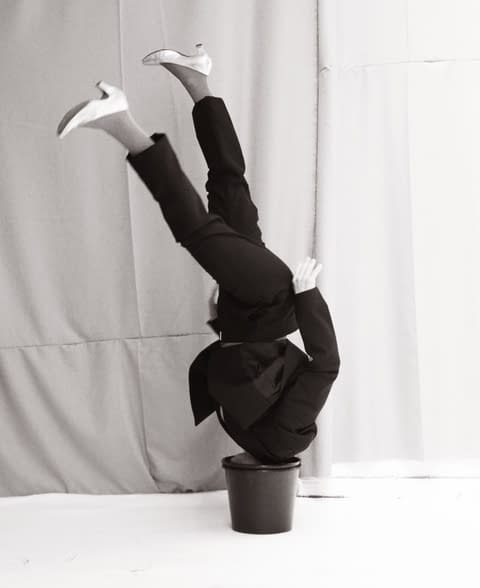 Isabelle Wenzel (Germany, 1982) is an acrobat and photographer whose work features on the cover, back cover, and french flaps of Astra Magazine's inaugural issue. Her work, which is playful and celebrates the body as sculpture, was a perfect match for the issue's theme, Ecstasy. Our deputy editor, Samuel Rutter, caught up with Wenzel over email while she was in Milan to supervise an installation for Miart 22.
Tell us about your background as an acrobat.
I've been an acrobat right from the start. I loved everything about movement and the idea of overcoming gravity. When I was very young everything was self-taught, then at about the age of six my parents found a professional teacher for me. As a teenager I became more interested in "fun" sports—I was a professional skateboarder until I injured my knee very badly during the Skateboarding World Cup.
When did you first develop an interest in visual art?
Along with movement I always was very drawn to creativity of any kind. After my injury it was clear that it would take a while to get fit again. So, I decided to study something, and the only option for me was something creative. First, I thought of studying design, but the university advised me to apply for photography. I couldn't quite see myself in the applied arts world, so I switched studies and went to Amsterdam in order to study fine arts.
What was it that continued to draw you to photography?
Before my studies, my main experience of photography was from standing in front of the camera, especially being photographed for skateboard magazines. I was fascinated by catching a moment in the air and making something visible which normally passes by so quickly.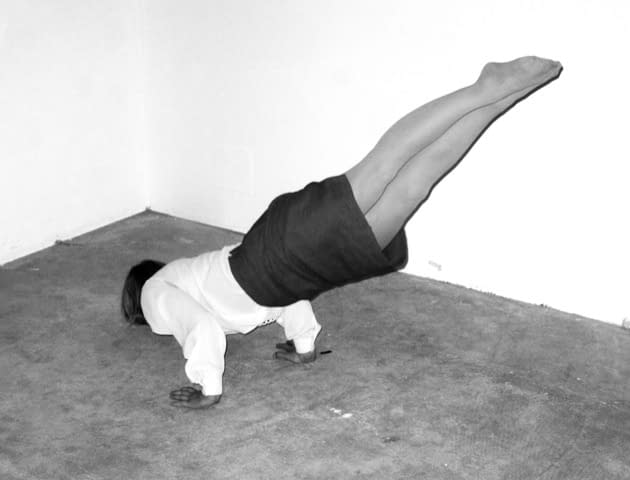 How did your interest in photography first combine with your skills as an acrobat?
I always wanted to tell a story about bodies, about movement. At the beginning of my studies, I was still quite cautious about that. I didn't want it to look showy, or like some spectacular act. I wanted to use the body in order to communicate a greater meaning, something universal. Something about what it means to be human and to have a body.
Which artists—or performers—have been influential on your work?
I was definitely influenced by my teacher Paul Kooiker. And I'm extremely inspired by the immersive energy of Louise Lecavalier. Seeing her perform helps me to go on and on. I hope I will have the same strength at her age.
Can you tell me a bit about your choice to use your own body as subject matter?
My process is a very intuitive interaction between myself and the camera. It is hard to distinguish all the roles I incorporate—sometimes I think I'm just a performer, but then I'm also the photographer and always have the images in mind. I mostly work with the autotimer which puts me under a strong time constraint during the shot. I like the aspect of trying to control the image while not being able to control it at all as I can't look through the camera and be in front of it at the same time. My images always include something fluid and improvised, and I love the method of trial and error. Giving up the traditional roles of being either the photographer or the model gave me a lot of freedom, and through this I have been able to create unconscious images. It's like switching my brain off and building something from within my body. I don't like thinking and reflecting that much, I prefer doing. I like the idea of my body interacting with machinery and getting into a meditative state while that happens.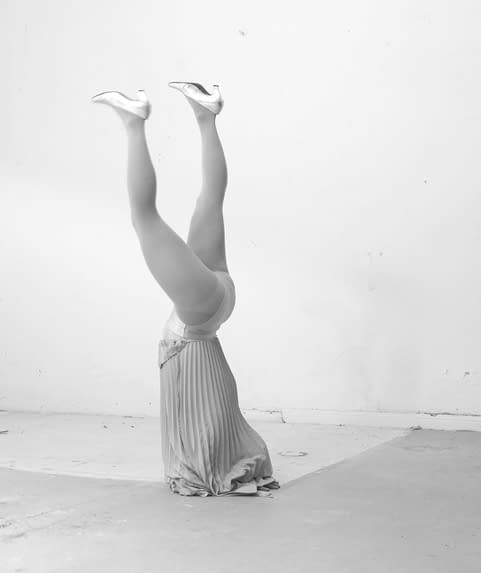 What is it that draws you to the body as a form, without a personality projected on it?
Having a body is very universal and personal at the time. It connects and disconnects us. I certainly use my body as an abstraction, it's not about me as a person, because I'm more interested in the sculptural aspects of the human body. I transform my body into a corpus of knowing. I want to open up a field of abstractions so the beholder can project their own needs on it.
Could you describe, step by step, how you made the image on the cover of Astra Magazine's first issue?
The cover image is drawn from the B-selection from a fashion shoot. So, the clothes I'm wearing are designer clothes, but I don't remember what brand. Here, the process of image making was the same as usual. I place the camera on the tripod, press the self-release, run onto the set, and do something with my body, make an action. I have used this idea of the head in the bucket many times before. It's a metaphor for so many things that interest me, like not knowing, not thinking, giving up, letting go of control, and so on. The image was made quite quickly. All it involves is placing my head in the bucket and doing a head stand. I tried it in different versions: legs closed, arms up and down, collapsing, bending and so on. In the end I liked this one with the step in the air the best.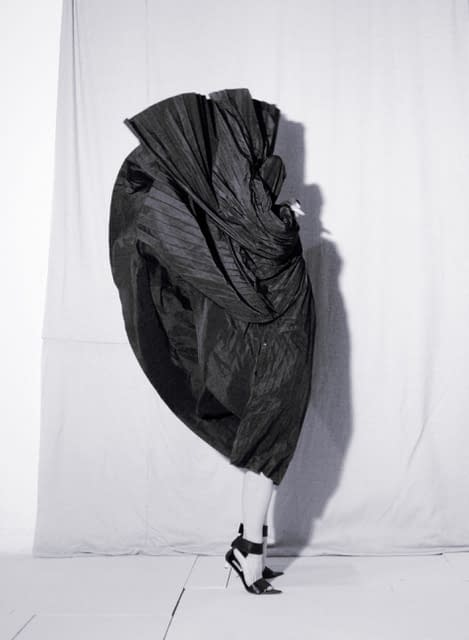 The theme of our first issue is Ecstasy. What does ecstasy mean to you? 
I guess ecstasy is connected to the neurological production of endorphins and dopamine. After these two long years of all the Covid regulations and isolation I decided I'd try to get out of my comfort zone as often as possible and take any opportunity to feel very much alive. I do things I normally wouldn't do; I swim in lakes, I travel, jump from the highest diving boards… When I rehearse, I try to push myself further than before. Last time during an improvisation I entered an almost trance-like state. That was quite a feeling of ecstasy…
Isabelle Wenzel lives and works in Wuppertal, Germany. Her works have been exhibited in the Netherlands Photo Museum, Fotografisk Center, and the Galerie Bart, where she has collaborated on multiple solo and group exhibitions since 2010. All images courtesy of the artist.