Airport Code
Looks great, feels weird.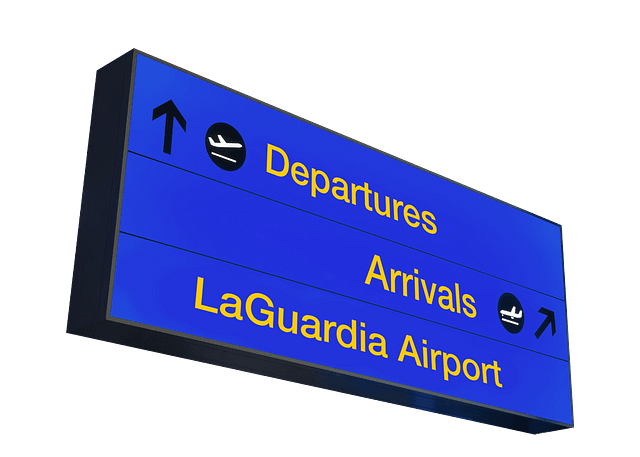 Is there anything stranger than an airport? In our Airport Code series, writers pick a travel hub to unravel.
I lower my mask and lift an $82 Le Labo Cedre 11 candle to my nose. Even on one of the stickiest days of summer, the scent of cedar and birchwood transports me to a woodsy winter day. I shake my iced venti Starbucks to recenter myself and take a sip just as I see a Briggs & Riley store no more than twenty feet away. After smelling all of the candles, I muse, I'll see if they have a matching backpack for my carry-on. According to the Delta app, which tracks my exact location, my gate is exactly seven minutes away. Plenty of time to browse, then grab gum and water at the — BuzzFeed News store?
It's not until I descend the escalator to my gate, where I see a giant illuminated Delta logo reminiscent of The Umbrella Corporation that I think: Where the hell am I?
What the hell happened to New York LaGuardia Airport?
Over a decade ago, when I was in my early twenties, my more-frequent trips home to Dubuque, Iowa, always began here. I remember those many journeys fondly, but getting home was like playing the Oregon Trail PC game. I traveled from LaGuardia to Chicago O'Hare and then from O'Hare to Dubuque Regional Airport. Usually this second leg was on an antique aircraft that carried no more than forty passengers. Cruising five hundred feet above the cornfields, the plane did belly flops with every rain cloud.
But the worst part of my journey wasn't my time in the air, it was sitting in LaGuardia waiting out delays. I'd learn my new departure time from a garbled intercom announcement while sitting on the floor (because where else). Then I'd join a crowd of passengers like a newly infected zombie to scour for food for me and my sister, returning with prepackaged hummus and baby carrots — the least slimy thing sold at the kiosk with the shortest line. The "if you can make it here, you can make it anywhere" vibes of New York City easily extended to those dreary departure gates and the arrival hall, full of stacked up luggage guarded only by stray pigeons.
The $8 billion renovation of LaGuardia was announced six years ago in 2015. Last year, Terminal B was unveiled to much fanfare. Last month, Terminal C (home to Delta) opened to passengers. Its press release touts the new terminal's "soaring floor-to-ceiling windows" and "21st century technology." My first time through the new Terminal C was on a trip to Iowa this past Fourth of July. I was so thrown by the newness of the experience that I felt like I sleepwalked through it. And so on my way back into New York I swore to take in how I felt when I landed.
I approached my return like an anthropologist. The floor-to-ceiling windows were indeed soaring and the whole airport was so bright. Old LaGuardia was so dark that I've airbrushed all my memories in sepia — as if I only ever arrived at dawn or dusk.
At the top of the steep escalator that ascended from the gates, there was a sprawling mural of New York's skyline where a family of three asked a stranger to take their photo like it was the scenic spot in Dumbo just under the Brooklyn Bridge. Before the sharp turn to baggage claim, there was a Bubby's — the buzzy Tribeca brunch spot that serves $26 pancake flights.
There were no pigeons in the arrival hall. Instead, there was an art installation of a subway facade graffitied with the Statue of Liberty and the Flushing Meadows' Unisphere. It had twelve head-shaped cutouts, one for each member of a visiting high school basketball team. There are even more homage-paying art installations in Terminal B, highlighting everything from The Bronx Zoo to The Stonewall Inn.
If the new LaGuardia is a song, it's Taylor Swift's "Welcome to New York" — all pulsing synths and saccharine. It looks great, but it feels weird. New York has never been so accessible or so clean.
I have a friend who says any time you complain about an ever-changing New York — closed-down clubs, Teslas replacing decrepit limos — you just sound old. But if I admit that I miss the demolished LaGuardia, do I also sound stupid? When I moved to New York fifteen years ago and landed in LaGuardia with two suitcases (and no job), its filthy interior said, Don't worry, we all live like college students here. The old LaGuardia must've braced tourists for taxis that still smelled like the night before, and handsy Elmos in Times Square. Should an airport evoke authenticity? Or should it feel like a stern handshake from a corporate bro?
I snaked through baggage claim, following the clearly marked signs for Uber pickups. Once I was on the sidewalk, for the first time since I landed, I found chaos. There were cars everywhere, airport workers' whistles completed with car horns while passengers streamed by with indifference.
While I waited for my Camry, seven minutes away, I watched an Uber disobey a neon-clad worker who wouldn't let him pull up to his passenger on the curb. They traded "fuck yous" in a standoff while the passenger stood paralyzed. The driver inched closer, a dare, as the airport worker took out his walkie-talkie and began to read the man's license plate number; the driver's "fuck yous" intensified and his waiting passenger began to cry. A kind but impatient observer rolled his eyes while gesturing for her to just walk to the Uber. She moved sheepishly, wiping her nose while throwing her bag in the backseat. When the door closed, the Uber driver nodded thanks to the airport worker before speeding off, as if nothing had happened at all.
As real life and feeling pierce through, I bask in the irony that it cost $8B to build a shrine to New York City that feels nothing like it.
Khalid El Khatib is a writer based in Brooklyn. His writing has appeared in Paper, Vice, them, and elsewhere.